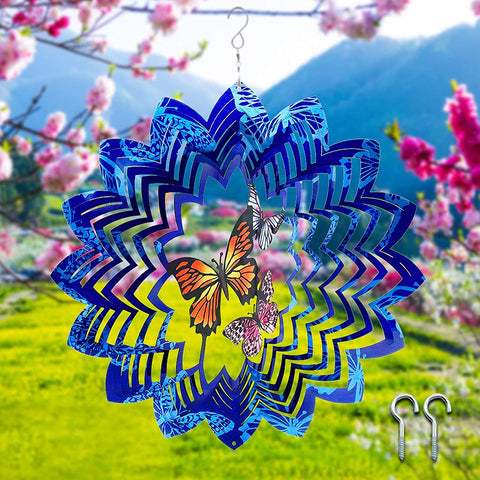 Wind Sculptures & Spinners: You will receive a flat wind spinners, and then rotate each layer slightly to form different levels. The light breeze can keep wind spinners rotating, reflecting a gorgeous 3D visual effect.
Colorful Butterfly Design: There are three beautiful butterflies in the middle, exquisite and realistic, the edges of outdoor wind spinner aslo printed with some butterflies. The metal wind spinners are placed in the garden and look like butterflies flying.
Stainless Steel Material: The garden wind spinner is made of thicked stainless steel, strong and not easy to deform. The surface is coated with an epoxy protective layer and not easy to rust. Using laser cutting technology, each layer is completely cut without adhesion.
Easy to Hang: The hook diameter of the garden wind spinner is 1.5cm, you can hang it on poles, branches, ropes smaller than 1.5cm. If there is no suitable place, you can put the nail to the wall, and then hang the wind spinner in different positions.
Large Size: The diameter of the outdoor wind spinner is 30*30cm, the butterfly part in the middle is 14*14cm, the hook part is 8cm. The hook part can be taken out, if you want to extend the wind chime, you can put other decorations on the hole under the wind spinner.