Note: Our LED headlights can be installed in most cars in the world. Some brand models need to purchase additional canbus decoders to update LED headlights (Mini; Volvo; Jeep Compass; Audi, Nova Lavida; BMW x1; Mercedes-Benz b; Chrysler Cruiser; and some German cars Ect)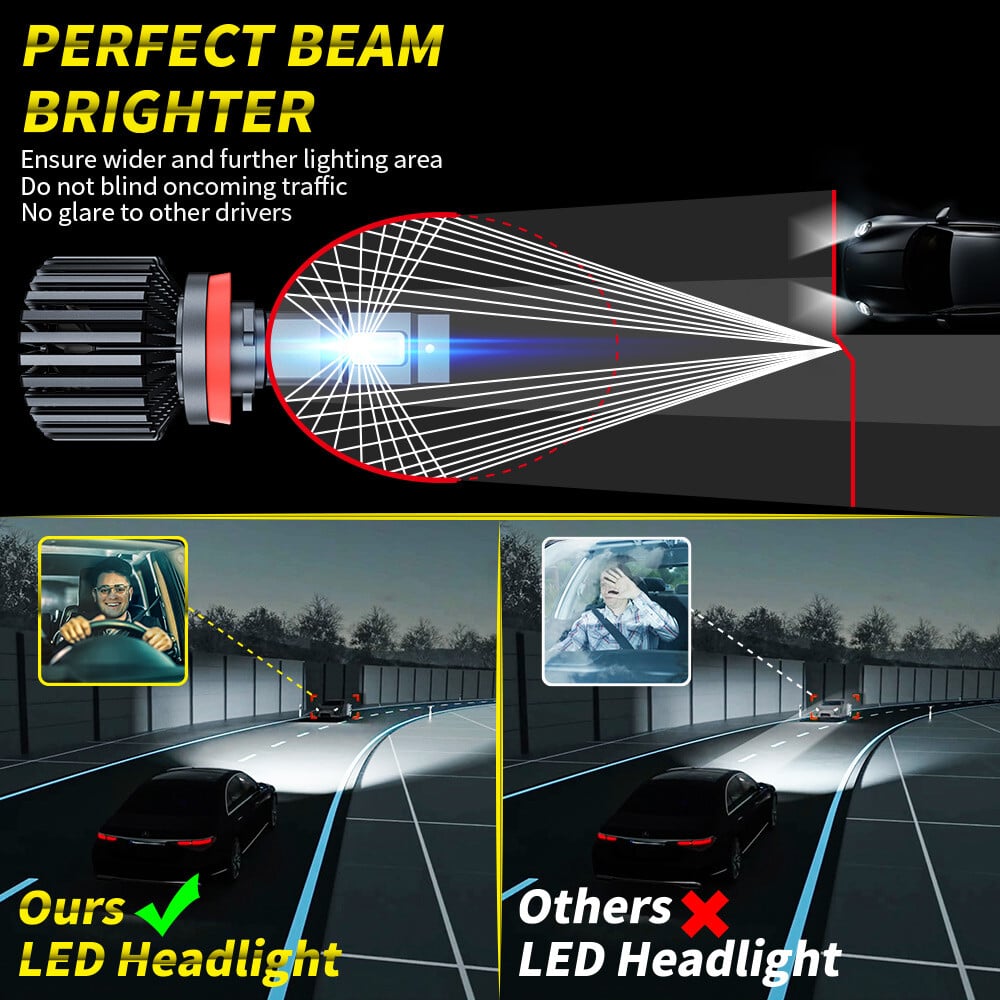 The LED headlamp enhances the super-focused beam pattern, no black spots or shadow areas, no glare or glare to oncoming vehicles, avoids the driver's stray light and distraction problems, ensures driving safety, and is a substitute for the original bulb Best led light.
Characteristic:
Power: 110 W/set
Current current: 2.5 0.03a effective power
30 5 5w/unit
Chip: csp 1860 chip
Luminous flux: 16000lm/set
Working voltage: dc 9-16v (suitable for 12v vehicles)
Color temperature: white 6000k, gold 3000k, warm white 4500k, light blue 8000k, ice blue 25000k.
IP68 waterproof, immersion 68 dustproof, 360-degree beam angle
Material: Aviation 6063 aluminum profile

Working temperature: 80℃

Life over 50,000 hours

Application: headlights, fog lights

Dual-channel cooling

System 1. Integrated aluminum heat conduction, 360 degrees of heat dissipation
Introduction to car lights
1. The commonly used models of H1 are mainly high beams of Chinese cars, and high beams of some Korean cars, German cars, and American cars.
2. H4-(H19): The commonly used models are mainly: the old overbearing, Highlander, Aveo, Kia K2, Huanchi, Now Rena, BMW MINI, Mercedes-Benz Smart, etc. All models of H4 are due to the original car The congenital design of the assembly is astigmatism, but the effect of upgrading the Anwari LED is much better than that of the original car.
3. The commonly used models of H7 are mainly: German, American, Korean high beam and low beam and low beam of Chinese cars.
4. 9005 (HB3) commonly used models are mainly: Japanese high beam, Emgrand and Roewe small models, 2018 Buick Yinglang and other models.
5. 9006 (HB4) commonly used models are mainly: Japanese low beam
6. H11 (H8-H9-H10-H11-H16) commonly used models are mainly: new Japanese cars low beams, high beams of some domestic cars, some German and American cars such as the new Magotan high beam, the new Mondeo high beam, Cadillac.
7. 9012 (HIR2)-The commonly used models are mainly: GM Buick, Cadillac, Hyundai IX25, IX35, domestic Pentium series and so on. Generally, the 9012 is a bifocal lens with far and near beams, except for Infiniti Q50L.HIRI (9011) and 9012 common.
8. H15: Mercedes-Benz A-Class, B-Class, GLK260, GLK300, Mercedes-Benz Vito, Audi A3, Kailuwei, Land Rover, Golf 7, Golf 6, Sharan, Ford Sharp, Ford Explorer, Zotye SR9, Borui and so on. H15 has two filaments, one serves as a daytime running light and the other serves as a high beam.
Clear vision when driving a car, especially at night, is arguably one of the most important factors for safe driving.
Although some newer luxury vehicles are now equipped with LEDs as standard, over 95% of vehicles on the road, both old and new, are still equipped with halogen lamps.
Are LED headlights worthwhile?
LED headlights offer an improvement over their halogen counterparts. The most important of these is better visibility. LED headlights are much brighter and reveal more of the road and your surroundings.
SEE BETTER AT NIGHT
Looks are subjective, but LED headlights can also help freshen up an older vehicle. LEDs replace the warm, yellow glow of halogens with brighter, cooler light found in modern cars.

This allows you to see more of the road in the dark, which makes the night driving experience more pleasant and safer.
LONG LIFE
Aftermarket LED headlights can last between 3 and 5 years.

For comparison: Halogen lamps have to be changed about once a year.

Long life not only saves you the hassle of buying new lightbulbs every year, it saves you a lot of money in the long run and is more environmentally friendly.
 IMPROVED SECURITY
Whenever you are thinking of upgrading your car, safety should always be an important factor. At LED Headlights we're committed to helping people drive safer and better.

Poor visibility at night is one of the most common causes of accidents. Among other things, it leads to delayed response times because objects on the street cannot be seen.

According to a study commissioned by CLEPA, the European association of automotive suppliers, LEDs can help motorists to see objects on the road 1.4 seconds earlier when they are driving at 80 km / h. That extra time can make the difference between life and death.
Car trend
Going with the trend (or being ahead of the trend) is sometimes the right thing to do, especially when it comes to vehicle safety.

If you don't want to take our word for it, take it from Osram, the inventor of automotive lighting.

Osram-Continental estimates that LED penetration in the automotive market will increase by a whopping 33% from 20% to 30% over the next three years. When they see it in the future, you should definitely see it too.
Are LED headlights legal?
each state has its own laws about LED headlights, but they're usually legal if they project a beam of light that illuminates the street for between 50 and 100 meters.

In this way, you can see the road and the surrounding area without dazzling or distracting other drivers with your lights.
🏆The LED light bulb has been rigorously tested for compliance.
Although the light is brighter than standard halogen lamps, the light is focused on the road so that oncoming traffic is not dazzled and there are no dark spots or shadows.
What about the price of LED headlights?
LED headlight bulbs are available from € 30 per set and can cost up to € 150 to € 250.
Cheap kits, usually under $ 50, are not recommended at all. They often operate at very high wattages, which can damage your headlights and your vehicle's power supply, the quality of light and the distance are poor.
Why is the  LED headlight kit so special?
At LED Headlights we offer one of the best and best-rated LED headlight kits on the market. Our LED headlight bulbs only € 79 and come with the best lifetime warranty in the industry.
Reduce the risk of accidents: The LED lamps offer a wider and wider lighting area and do not dazzle other drivers.

Eye protection paint: Legal 6000K white light reduces eye strain and ensures safety when driving at night.

High Visibility: The lightbulbs provide a centralized high beam so you can see a longer section of the road and drive through rural areas, deserted highways, and poorly lit roads.

No frequent replacement: With heat-resistant glass coating chips, the lightbulbs can work well every night even after 12 hours of driving and not get darker within 10 years.

Try risk-free:100% guarantee of results;50% discount; 30-day money-back guarantee - satisfaction guarantee.
How to install:
Our lights are universal, but different models have different uses. I will give you a brief summary:
1. H1 h8 h11 is monofilament single leg, mostly used for high beam.

2. H7 is single-filament double-legged, mostly used for low beam.

3. H3 is a special type, generally used in Japanese cars, rarely used in other cars

4. H4 is a double-wire three-leg bulb. Both the low beam and the high beam of 9005 or 9006 are in one bulb. The standard is low beam 55W, high beam 60W; or low beam 90W, high beam 100W. Motorcycles are generally H4, 35W far and near, or 35W far and close to 25W.

5. Used for signal lights (brake steering) are BAY15d, BA15d, BA15s, B12.3d, B10d.
FAQ
Q: When can my order ship?
A: The package will be shipped within 48 hours after we receive your order. (except holidays)
Q. About Packaging
A: We will use the two-layer anti-vibration package, in order to ensure that your package can be safely delivered to you. So you have no worries.
Q: How long does it take for me to receive the package?
A: We use standard express shipping, if you don't receive the package within 60 days, please contact us, we'll help you refund or resend .. Your money is safe. 
Q: If I bought the wrong model, what should I do?
A: If you bought the wrong model and it doesn't fit your car, please contact us first, then we will try our best to help you exchange or refund.
Q: What if I received an error or product damage?
A: If you receive an error or product damage, please contact us immediately, we will respond quickly and give you a solution, you will receive a refund or replacement service.
Q: what about the warranty service?
A: We have 12 months warranty service. If you experience problems within 36 months (natural damage), please contact us. We'll respond quickly and resolve your issue, so don't worry.
Q: about feedback.
A: If you are satisfied with our merchandise, please give us all 5 stars, your feedback is our biggest motivation. If you have any questions, please don't give us negative feedback and let us know immediately, we will offer you the best service and solution.