THE BEST CHOICE FOR DAILY ACTIVITIES
The tray is installed on the armrest to provide you with a convenient place for your mobile phone, snacks, breakfast, books, TV remote control, coffee, hamburgers, etc.
You can easily get what you want, which is very convenient for your life. .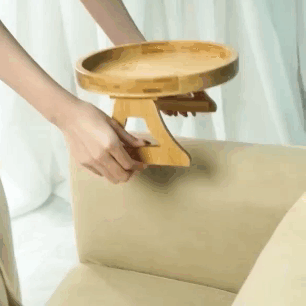 SUITABLE FOR ALL SOFAS
The first thing you'll notice about this folding armrest tray is the weight of the hinge and spring clamp.

Creates a wide grip for medium to wide arms. Give this durable 100% bamboo armrest tray a try and see!
FOLDABLE DESIGN
¡Not only does this sofa table take up less space than regular TV dining trays, it also folds down to store under the sofa when not in use!
And while you don't have to lean on it, you can still enjoy a full-size dinner plate on it!
EASY TO USE
This armrest table is easy to use! No other tools required, install and uninstall in a second, just plug and play.
Plus, it's designed with non-slip rubber grips to prevent the tray from rolling so you can sit your drink next to the remote without worry.