PLUG AND PLAY
Switchable between transmitter (TX) and receiver (RX) modes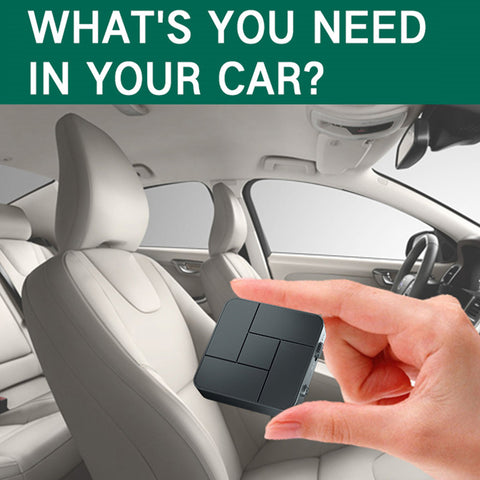 FEATURES
Transmitter Mode: Streams audio/music from non-Bluetooth TVs, CD players, MP3 players or home stereo systems to Bluetooth speakers or headphones wirelessly
Ideal Solution: This portable, lightweight wireless audio transmitter and receiver is an ideal wireless audio solution for various situations and purposes, and has a built-in microphone to support hands-free calls.
Receiver Mode:

S

treams audio/music from phones, tablets or laptops (with Bluetooth function) to wired speakers, stereos or headphones wirelessly
Easy To Switch: Simply press the switch to switch between transmitter and receiver modes. Use advanced Bluetooth technology and 3.5 mm audio cable (included) to easily connect.
Wide Compatibility: Equipped with 3.5mm cable and 3.5mm 2RCA cable, this receiver transmitter adapter can be widely used in your computer, laptop, home stereo system, earphone, smart phone, Mp3 player, CD player, etc.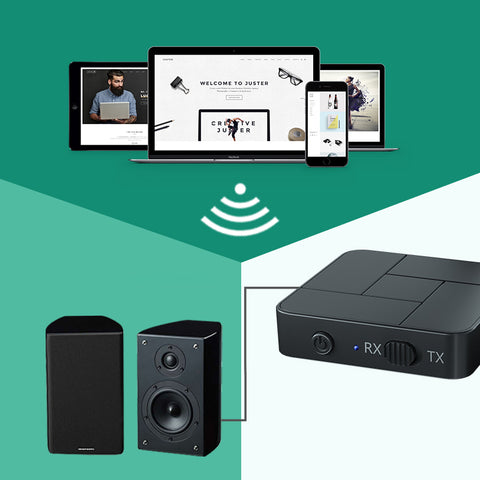 SPECIFICATIONS
Color: Black
Weight: 72g / 0.15lb
Working Hours: 5 hours (transmitter mode); 6 hours (receiver mode)
Range: 10 m/33 ft
Charging Time: 2 hours
Battery: Lithium polymer (200 mAh)
LED Light Indicator: red light for TX mode; blue light for RX mode
Size: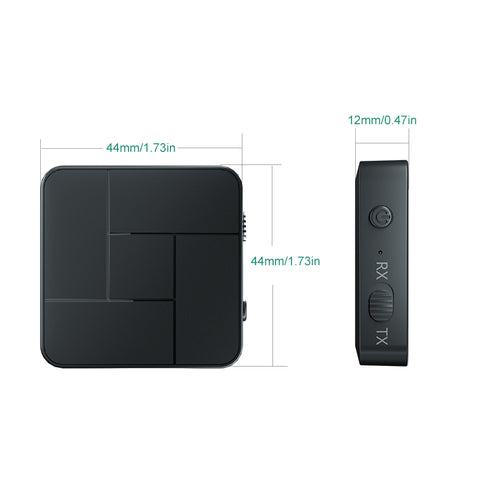 PACKAGE INCLUDED
1 × Packing box

1 x Bluetooth 5.0 audio transmitter/receiver adapter

1 x Micro USB power cord

1 x RCA cable

1 x 3.5mm auxiliary cable

1 x User manual