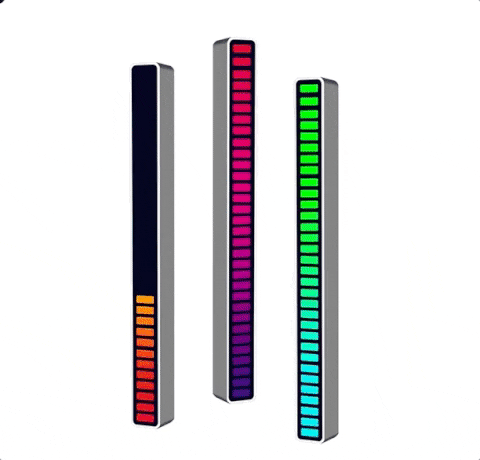 【RGB Sound-Controlled Pickup Rhythm Light】
RGB music level light has 32 LED lamp beads, uses an aluminum alloy one-time molding shell, and has a 15-level adjustable high-sensitivity pickup microphone. It is equipped with a noise reduction function and responds to music by picking up ambient sound /Respond to noise. It can realize the dynamic expression of music and sound field, bringing you a different dynamic beauty.




【Perfect Visual Effect】
RGB audio spectrum indicator is equipped with 15 kinds of LED light brightness adjustment, 15-level LED dynamic rise and fall speed, 15-level LED dynamic peak to dwell time, and fall speed, you can set your favorite according to the style of your own preference of. It is also equipped with an AGC algorithm, which can better meet the effect of dynamic display.




【Simple Operate & Easy to Carry】
You only need to operate a key to set the mode you want, and you only need a Micro-USB cable to plug and play. You can perform simple operations to achieve the desired effect you want.




【Applicable Scenarios】
You can place the RGB sound-controlled rhythm light in the living room, desk, game room, bedroom, or car, and let the beat of the music drive the flashing of the lights to create a relaxed and pleasant atmosphere for you.
【High-Quality Service】
The KIKET sales team will present the best service for you. If you have any questions, please contact us. We will reply to you as soon as possible and provide you with a satisfactory solution.