3/8'' Cordless Ratchet Right Angle Wrench Impact Power Tool 2 Battery & 7 Socket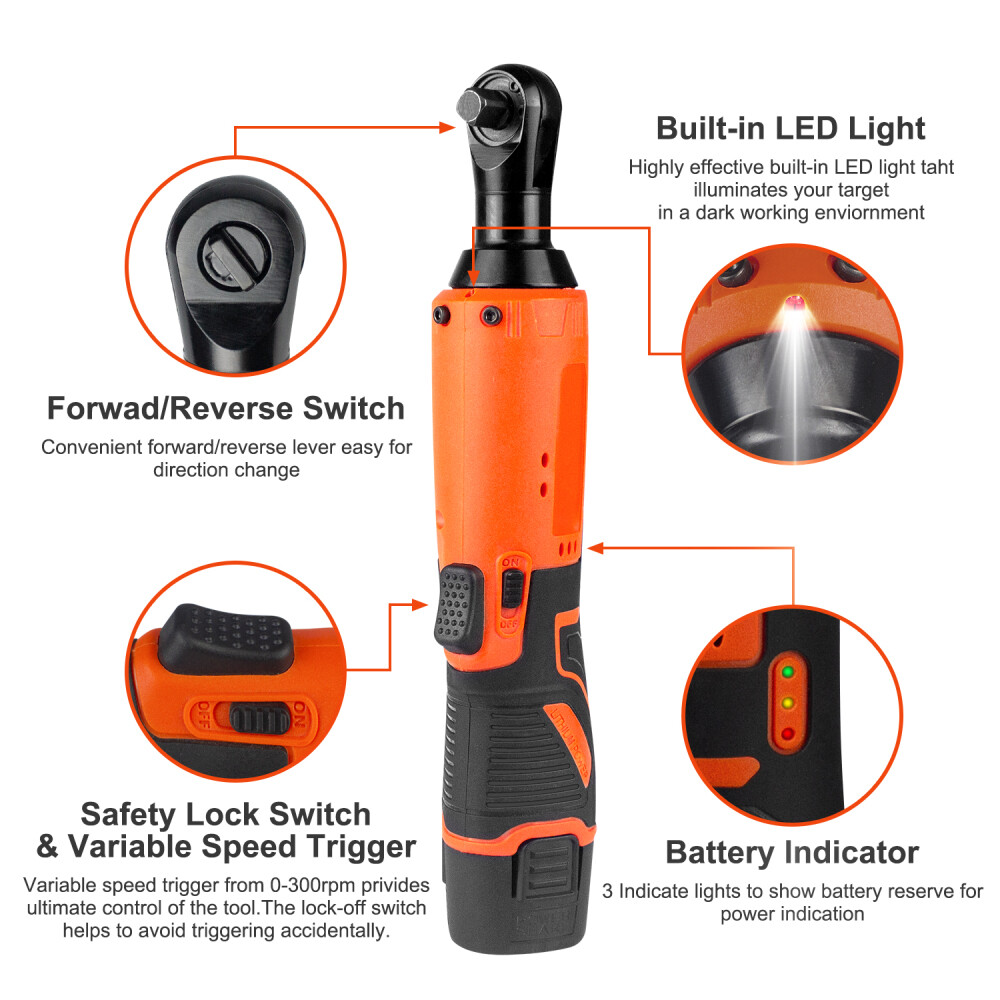 Feature:
1. [Powerful Motor]: The powerful 12V motor produces a torque of up to 65N.m and a speed of 260 RPM, which can effectively prevent machine damage caused by excessive motor temperature.
2. [R/F Positive and Negative Design]: Special R/F positive and negative design makes it easy to disassemble.
3. [6000mAh Large Capacity Battery]: Use 6000mAh large capacity lithium battery to ensure longer battery life. It can complete charging in 40-50 minutes to achieve working time of about 40 minutes.
4. [3/8'' Square Head]: Adopt 3/8'' manganese steel spindle, the metal ball is clamped accurately, and the sleeve can be disassembled without disassembly.
5. [3cm Nose Width]: The width of the nose is only 3CM, suitable for small space operation, electric pre-tightening and manual reinforcement.
6. [LED Working Light Design]: LED work light automatically lights up during work, making it easy to work in the dark.
7. [Anti-skid Handle]: Ergonomically designed anti-slip handle makes it easy to rotate the screwdriver, reducing hand fatigue.
8. [Wide Range of Uses]: It can be widely used in truss installation, wedding stage construction, car repair, mechanical maintenance, etc.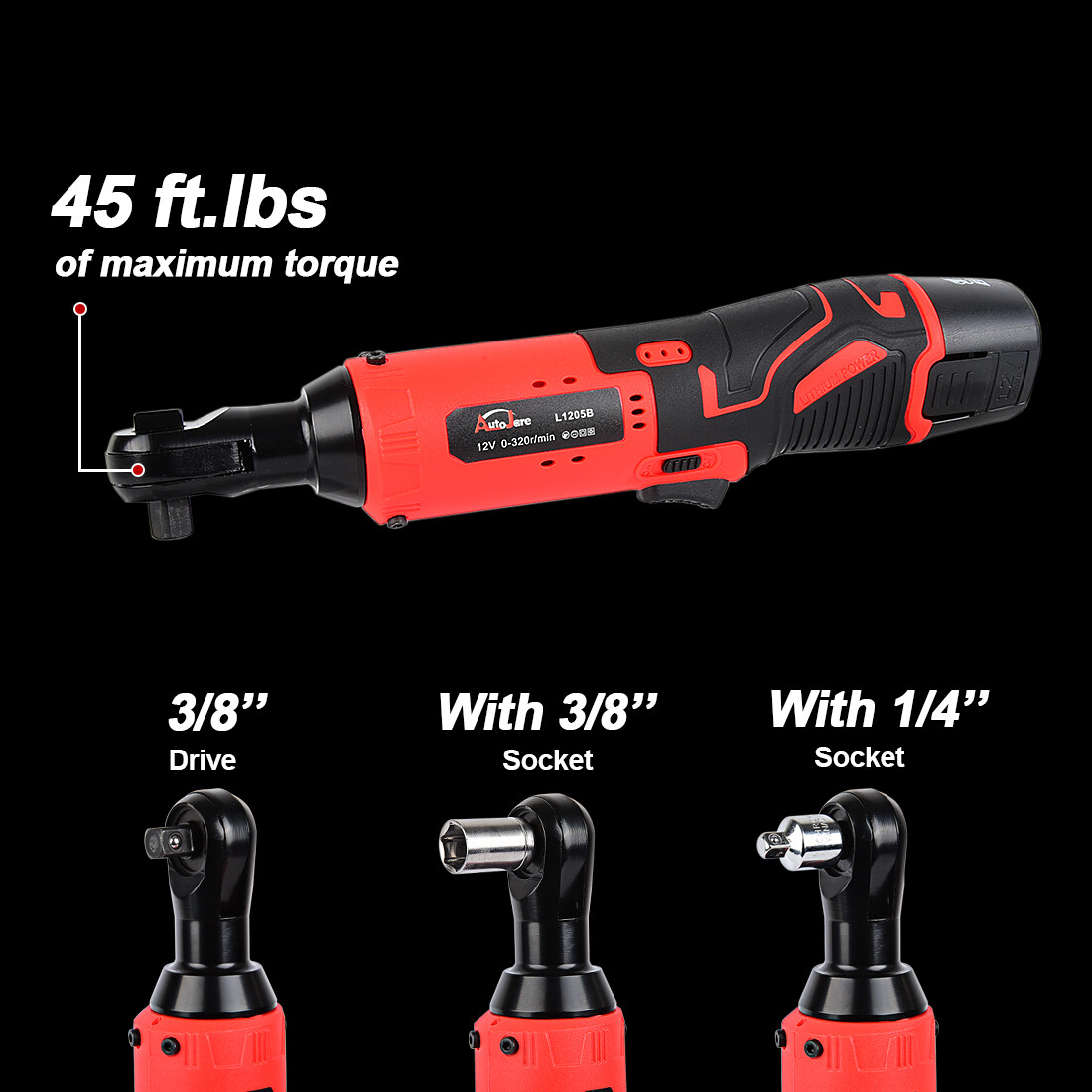 Specifications:
Item Type: Right Angle Wrench
Color: Blue / Red (Random)
Plug: US
Input: 110-240V 50/60Hz
Maximum Torque: 65N.m
No-load Rotating Speed: 230RPM
Battery Capacity: 6000mAh
Battery Voltage: 12V
Angle: 90°
Head Size: 3/8"(10mm)
Product Size: 280*65*50mm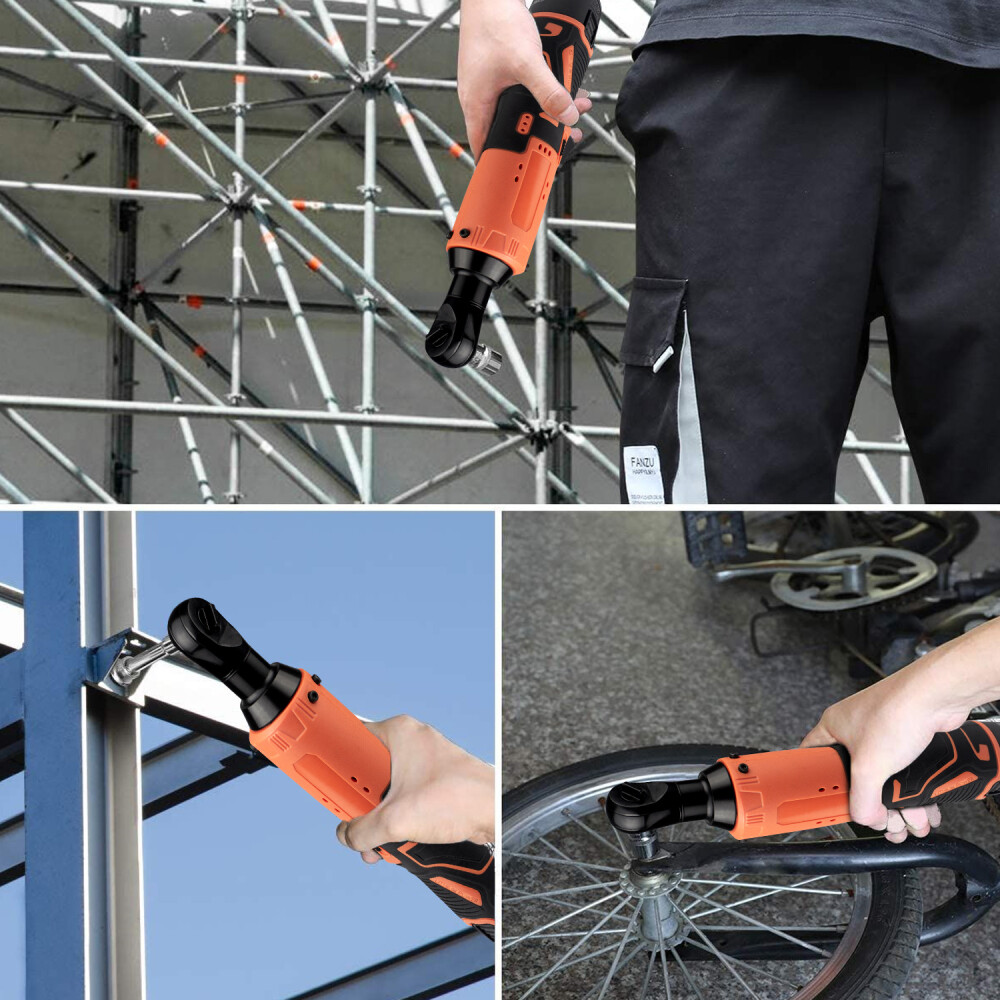 Battery Tips: 
1. Before first using,please make sure fully charge(2-3 hours) the battery to activate battery performance.
2. Keep the battery away from water,do not pound the battery violently. 
3. If you encounter any problems during use, please let us know as soon as possible and our team will help you.
Package Includes:
1 x Cordless Wrench Ratchet
1 x Charger 
1 x Lithium Ion Battery 
Or
1 x Cordless Wrench Ratchet
1 x Charger 
2 x Lithium Ion Batteries
Or 
1 x Cordless Ratchet Wrench 
1 x Charger 
2 x LiIhium ion Batteries
1 x 1/4" Adapter
7 x Sockets 
1 x Storage Bag