2in1 Cordless Electric Leaf Blower Battery Operated Air Vacuum Snow Dust Sweeper with Battery and Charger
This Cordless Electric Leaf Blower garden blower is the ideal tool for clearing leaves, dirt and debris from smaller gardens, car or home.
Like all of our cordless tools, it is lightweight and quiet, as well as being simple to use. It has a built-in Lithium-Ion battery, and to charge it, you just plug the blower in using the charging cable in the same way that you would charge a phone.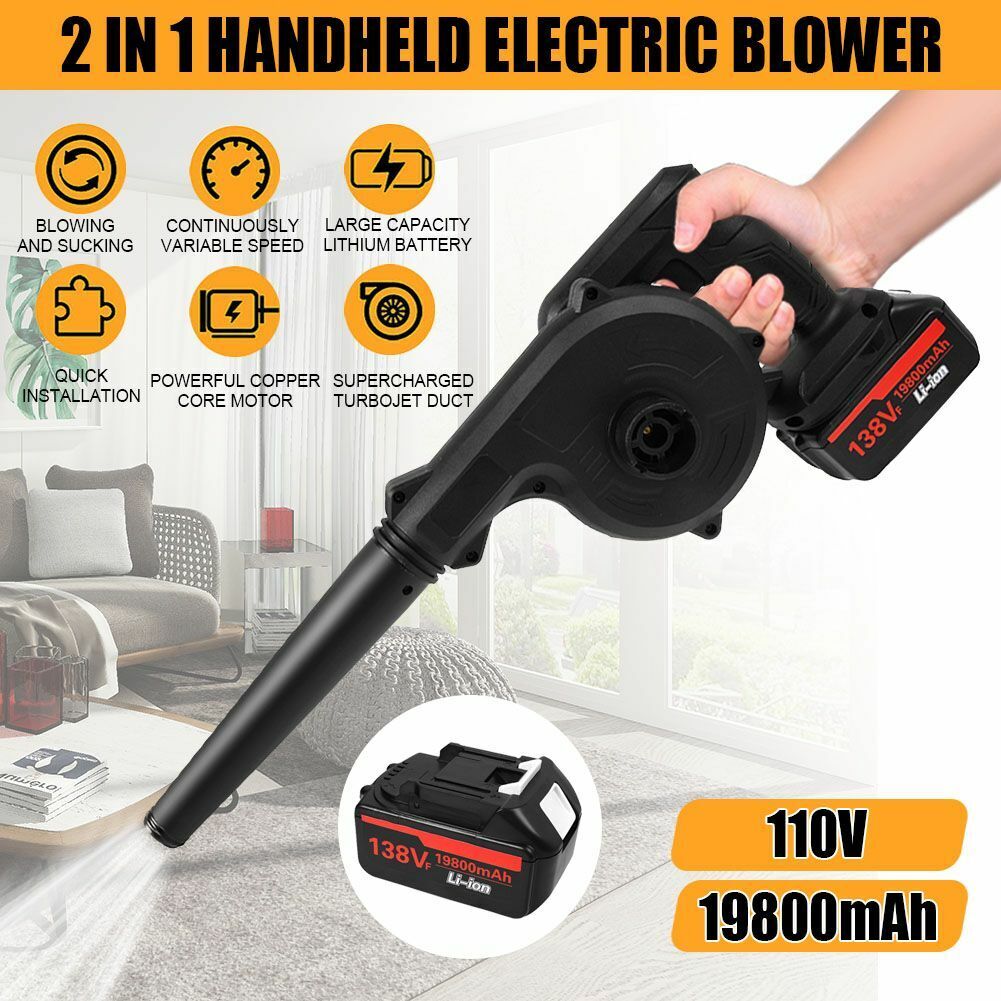 2-in-1 Blower & Vacuum: Our two-in-one blower and vacuum cleaner can be switched between blowing and vacuuming modes by changing accessories. Install the blowpipe on the air inlet and place the garbage bag on the air outlet, and the blower will become a vacuum cleaner.
Larger Battery Capacity & Longer Working Time: This cordless blower has one 6000mAh lithium battery. Equipped with lithium battery ETP power saving technology, it saves more power in a single use.
Strong Adjustable Speed & Practical Convenience: Our portable cordless fan uses turbo fan technology to enhance suction and blowing power. You can control the wind force by changing the pressure. The maximum wind can reach 18000r/min.
Complete Accessories & Wide Applications: In addition to the blower, you will get 5 accessories. According to different accessory combinations, our blower can be used in your garden, home and car to clean fallen leaves, dust, pet hair, etc.

Bigger heat dissipation holes to dissipate heat faster and ensure stable operation.
The soft rubber air collecting pipe can penetrate into narrow spaces to avoid scratches.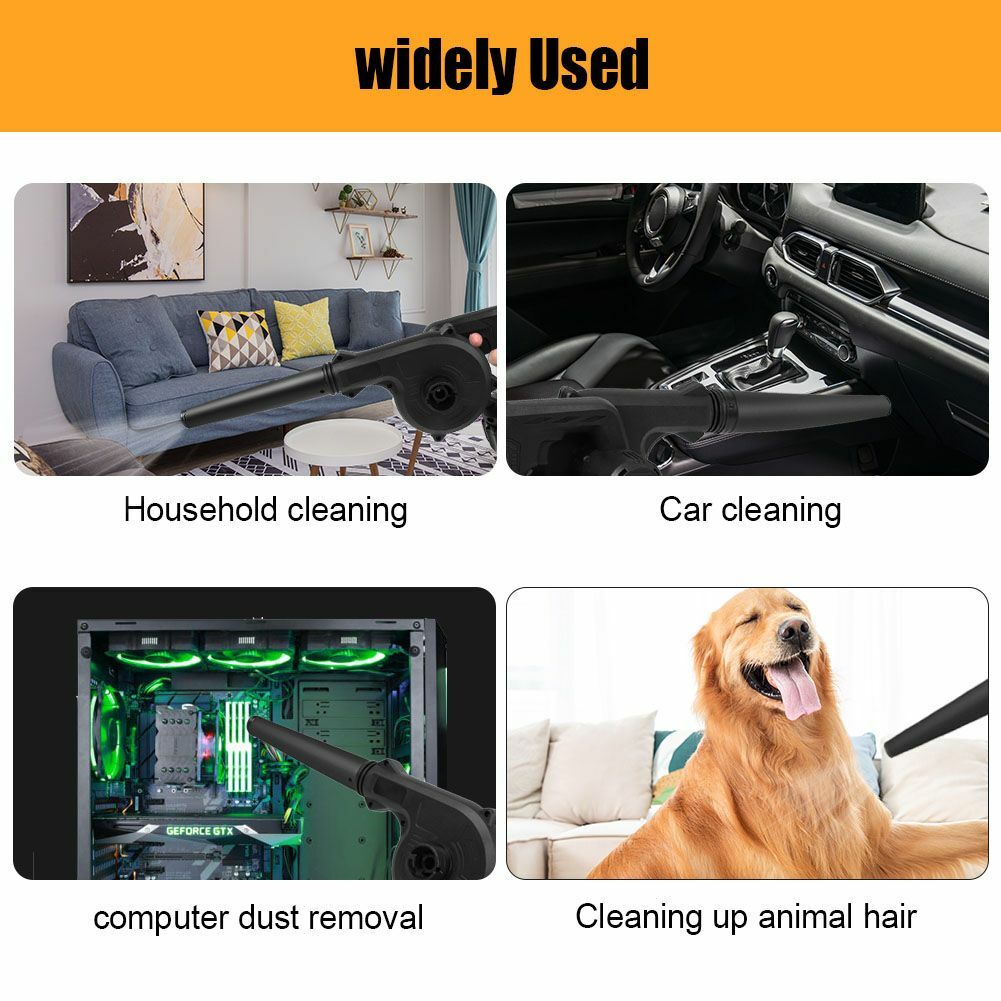 Specifications:
Type: Cordless Blower
Color: Black
Size: as picture show
Battery Capacity: 19800mAh
Rate Rotating speed: 3000r/min
No Load Speed: 21000r/min
Wind pressure: 100kpa
Air Flow Rate: 2.6~3.6m³/min
Voltage: 110V
Power Supply: Li-ion Battery
Speed control mode: Variable speed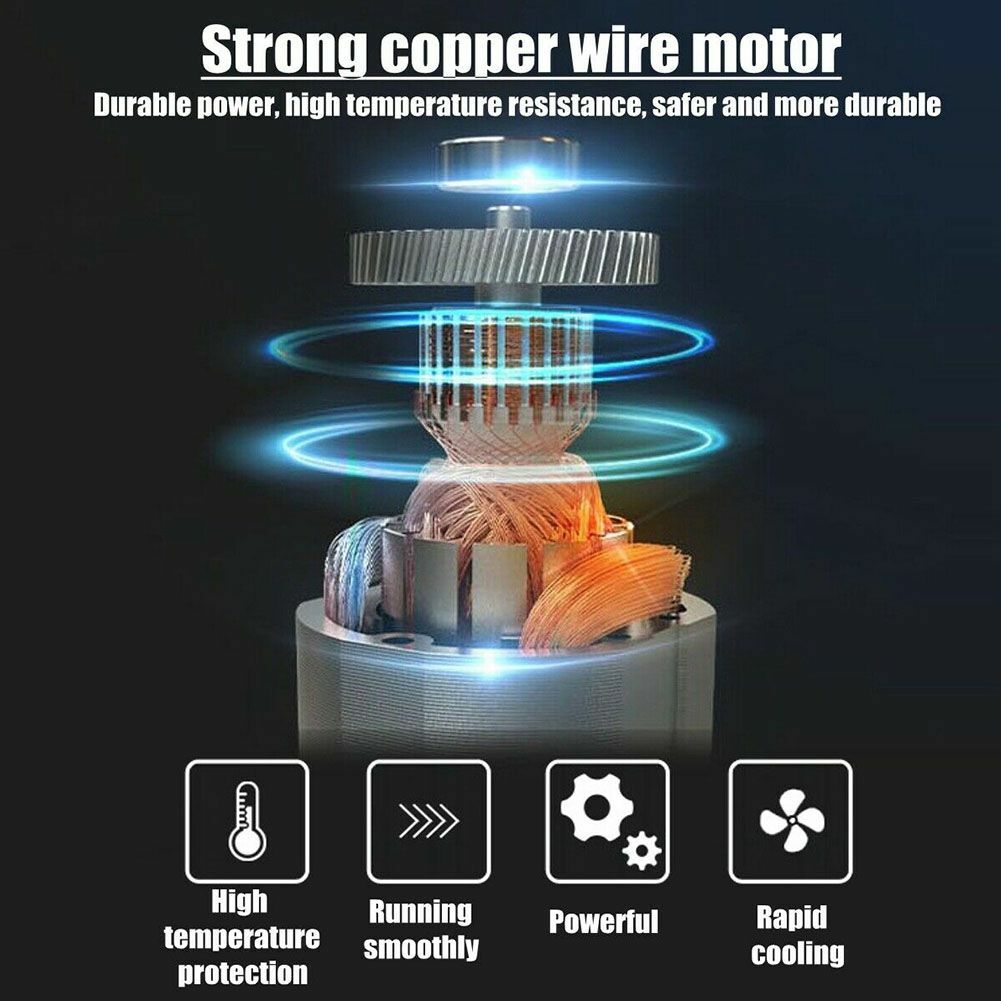 What's included:
1 x Cordless Blower
1 x 19800mAh Li-ion Battery
1 x Air Hose
1 x Dust Bag
1 x US Plug Power Adapter